Go ahead and test an advanced beta version of MapNat, the ecosystem service (ES) mapping smartphone App.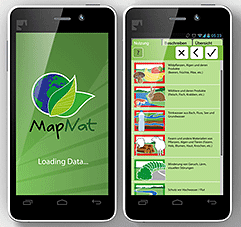 MapNat lets you map the ecosystem services you are actually using in the very moment of mapping. So the mapping perspective is that of ES use or ES 'flow'. It is designed as a citizen science tool, to be used to get to know more about how people appreciate and use different ES. Just map which ES you are using. On the map display you can also assess which ES have been used by others, what they commented and how often they use/enjoy the ES they mapped or how severe they judge the disservices they encountered.

Any technical and thematic comments are welcome. For questions, comments please contact: joerg.priess(at)ufz.de .
Download the App for Android devices here.
Download the instructions (Pdf) here.